Shooting People
Part One: The Preamble


My name is Darren and I shoot people...
If there is a single area in my photography in which I have had the most success, it has to be with people as my subjects. Truthfully, one of the biggest reasons I have had some luck shooting people is simply that I dare to do so. Where many get very nervous and almost frightened when it comes to pointing the camera at a stranger, I have more or less trained myself to do it when I see fit.
With this in mind, I will try to pass along some of the things that work for me and which I believe can work for many.
First of all, let me start by saying that I fully understand about being nervous when it comes to photographing people you don't know. I have been there too. If it wasn't for the encouragement, and sometimes disparagement of two photographer friends, I would probably still be sitting back and shooting architecture, landscape and/or other similarly remote styles of shooting. The truth is, I find people infinitely more interesting than anything else and I am proud that I have overcome my insecurities to shoot subjects I truly find interesting.
In my opinion, virtually all the great photographers, those who have created images which will last beyond our lifetimes, shoot people. The shots burned into our minds are of people, not mountains, green peppers or old buildings somewhere.
"Wait!" you are screaming. "What about Ansel Adams? The most well known photographer of all time?" Well, I would counter that he is perhaps the exception that proves the rule. Also, did you know that he was an accomplished portrait photographer as well?

For all the photos below, please click on the image to be taken to the original. Blogspot does strange things to the images, they all look much better as originals.

Let's move beyond Adams. What are the photographs that really have made an impression? Almost all are shots of people I would say. Dorothy Lange's shot of the Immigrant Mother

would be one which first comes to mind. Something very powerful and haunting about that. Something very HUMAN.
Two photos from the Viet Nam war also come quickly to mind. One would be Eddie Adam's shot of the Execution of a Viet Cong Guerilla
The other shot from the Viet Nam war which would stick out for me would be Nick Ut's shot of the naked Kim Phuoc as she flees from a napalm strike.
Robert Capa would have a couple entries on my list. One being the "Loyalist Militiaman at the Moment of Death, Cerro Muriano, September 5, 1936"
and the other being the landing photo from D-Day.
Now, not all memorable photos have to be captures of war or strife. The photo of Neil Armstrong by Buzz Aldrin
would be high on many lists, not just my own.
Other moments of triumph that have stuck with me would include Bob Beamon's record breaking long jump
at the Mexico City Olympics.
Cassius Clay (soon to be Muhammad Ali) standing over Sonny Liston
while urging him to "Get up and fight sucka!" shows both triumph and failure and endures as a lasting image to this day.
Alfred Eisenstaedt's capture of a sailor kissing a nurse in Times Square to celebrate the end of WWII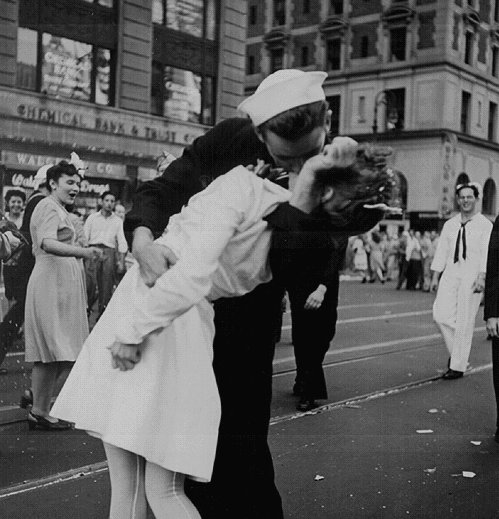 is another image which still impacts today.
Other examples would be Steve McCurry's image of the Afghan Girl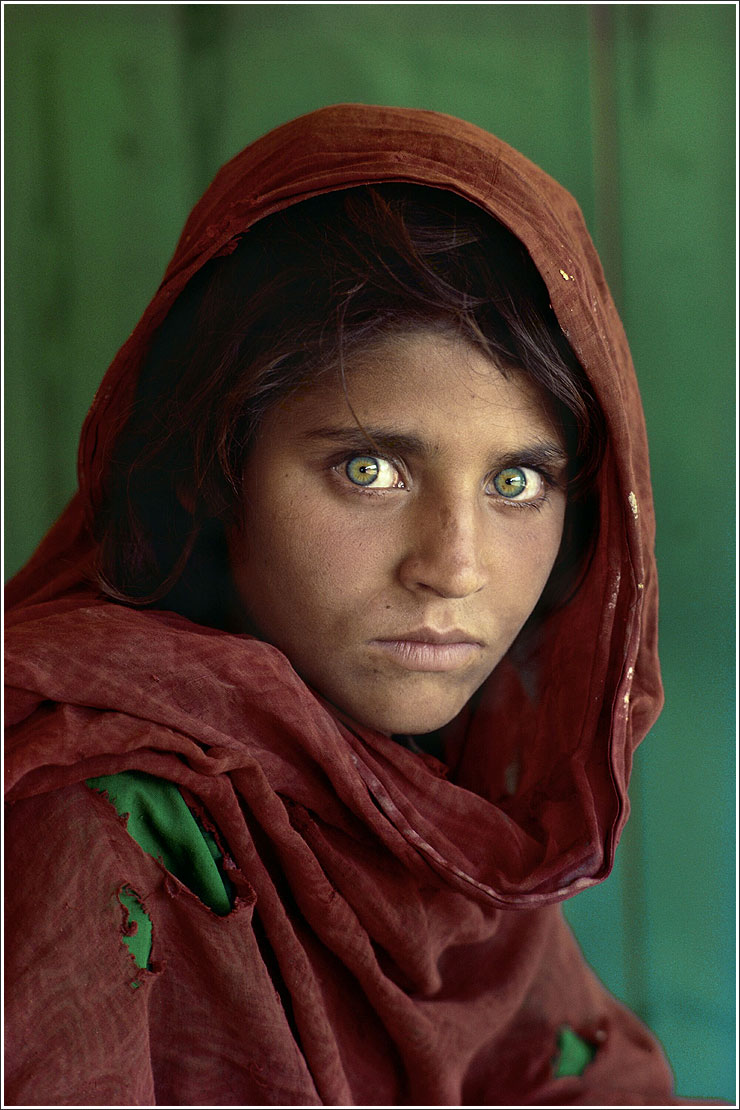 Sebastio Salgado's image of people climbing out of a Brazilian Gold mine (actually, there are a number from that series, but my choice is this one).
Yousef Karsh's portrait of Winston Churchill
Arnold Newman's portrait of Igor Stravinsky
Henri Cartier-Bresson's Boy on Le Rue Mouffetard
Kevin Carter's image of a vulture looking ominously at an emaciated boy in the Sudan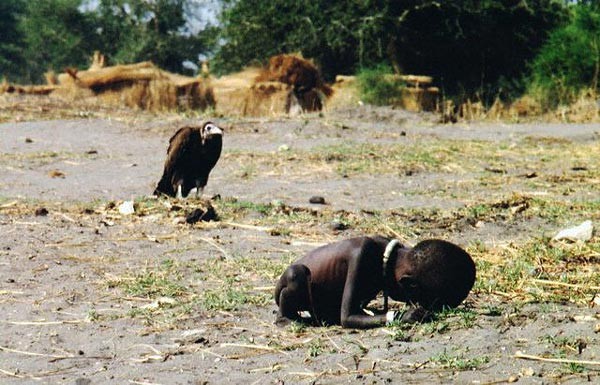 (OK, this one is not a happy photo at all, and it in fact led to the photographer taking his own life)
Now, before closing out this section, I would like to make a somewhat bold claim. Not only do photographs of people have great impact, but they can shape public opinion and they are capable of mythologizing or demonizing their subjects. Both the Nick Ut and the Eddie Adams photos I mentioned were instrumental in shaping the American perception of the war in Vietnam. This is well known and accepted by this point. I will give a somewhat less obvious example, albeit with another iconic photograph. I posit that things are quite different today because of this photo of Ché Guevara, taken by Alberto Kosta.
Superficial as it may seem, I believe this photo has lasting impact, both for reasons serious and superficial. Superficially, this image is still very commonly found on posters, t-shirts, tattoos, coffee mugs and god knows how much other memorabilia. Now, wearing the t-shirt or getting the tattoo could be viewed as advancing the views of Ché, yet how many of those with the memorabilia know or understand who exactly is captured in the photo? My guess is that it is relatively few, but because of the photo, the name lives on.
Less superficially, I think that it isn't impossible that the photo has been a piece in the puzzle in maintaining the communist Castro government in Cuba. Think about it this way, corporations hire models and pay a lot of money to have their product associated with people who their target market consider beautiful and sexxy. Is it outrageous to think that Ché looks appealing and sexxy (in a heterosexual way) to disgruntled anti-capitalist teens and young men not only in Cuba, but in Central and North America and beyond? I think it is not ridiculous to believe this at all: This image is a part of why Fidel has held power in Cuba for so long and why it appears that illness is what will remove him, not overthrow or military action. Likewise, I believe that this photo has bolstered the power of Venezuelan president Chavez, at least to a very small degree. I can't think of a landscape or abstract photo which could make this claim.
I am leaving out many, many photos, missing out on shots by some of my favourite photographers, but I believe I have given a pretty good overview.
Now, I am sure that not everyone will recognize every photo I have posted here, but I am sure that the majority of people will remember seeing the majority of the shots. Let's think about photos where people don't play into the image. Beyond maybe a few of Ansel Adam's photos and perhaps Edward Weston's Pepper, how many landscape, still life or architectural photos would have that kind of recognition or impact? Very few I think.
I shoot people, because it is people who interest me. In my follow ups to this, I will try to give some advice that will allow you to shoot people too.
I hope it can help.